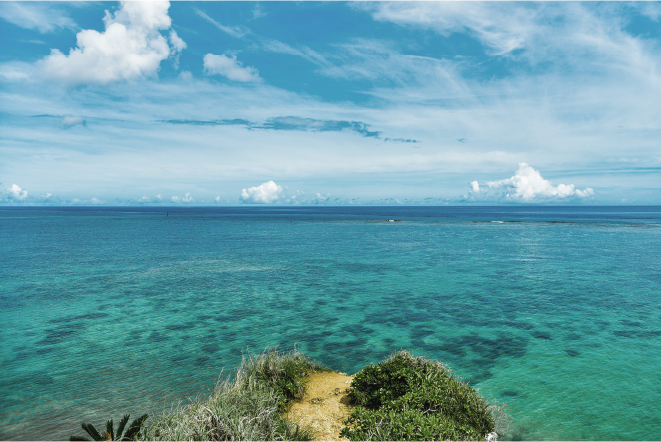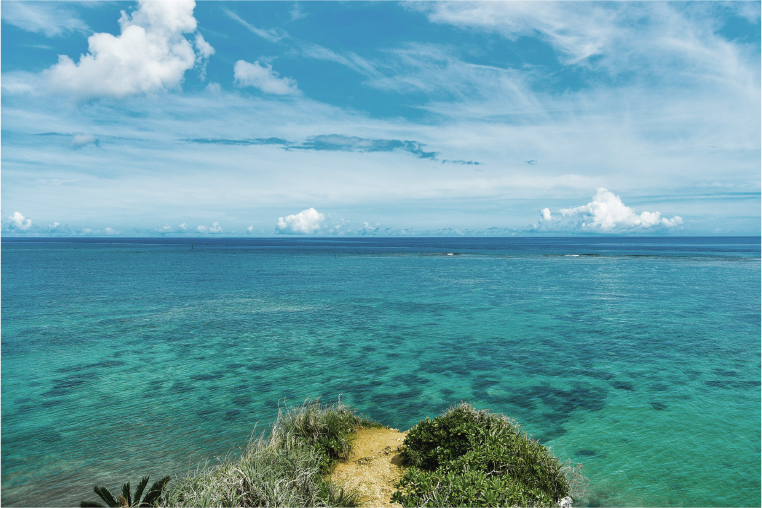 Origin of MIHANA
Okinawa's most memorable aspect is the beautiful color of her seas,
so MIHANA derives its name from the old Japanese word for clear light blue, "mihanada."
Our logo is made from three overlapping waves.
It conveys everlasting happiness just like endless waves,
and takes inspiration from the traditional Japanese wave pattern of "seigaiha,"
which represents eternity and peace.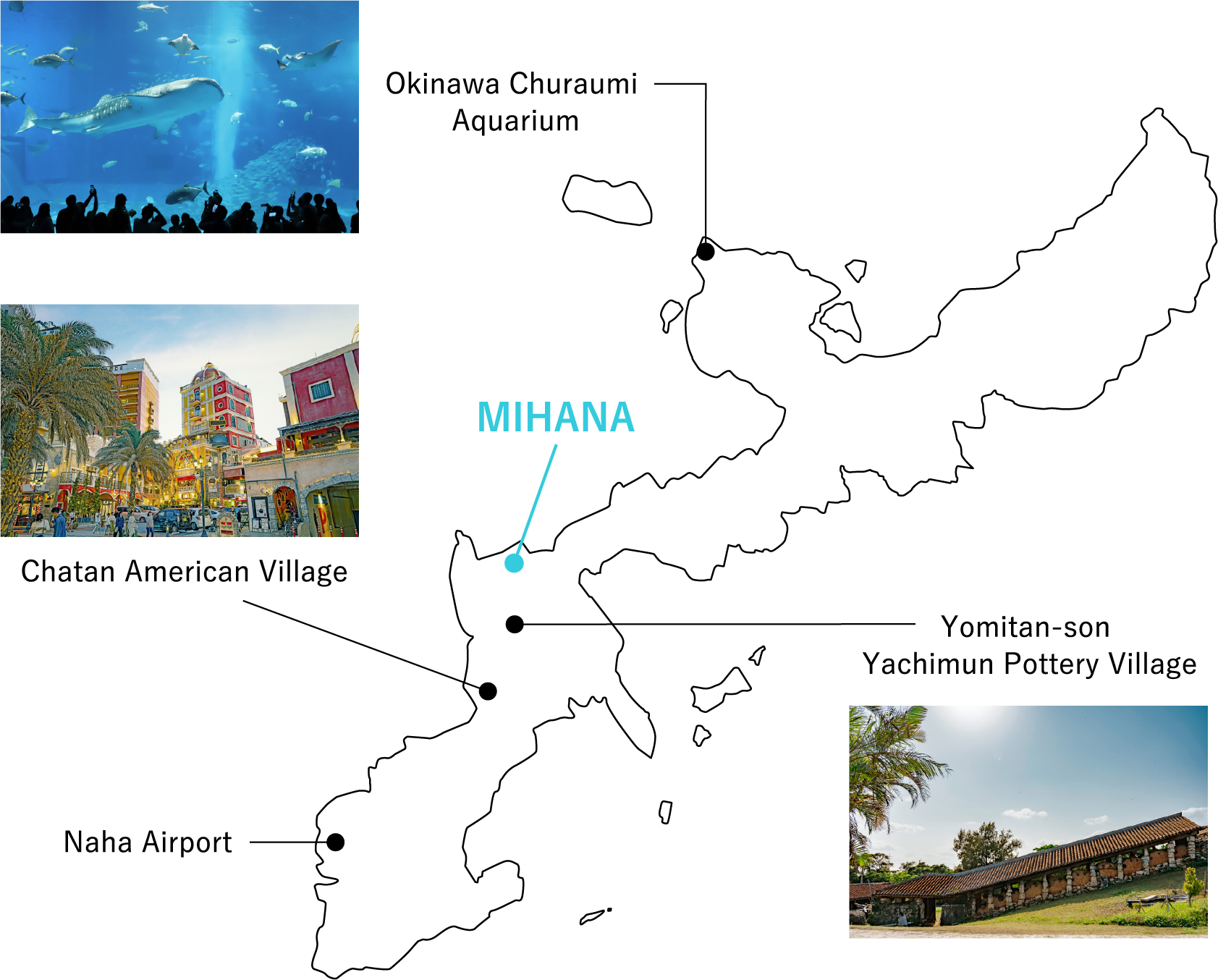 Onna-son: one of the
best holiday resorts
in Okinawa
Onna-son, one of the best holiday resorts in Okinawa
and within which MIHANA is located, stretches along the west coast
and is dotted with sea-facing hotels and beaches.
A leisurely drive north along Route 58 for fabulous views
is guaranteed to be one of the great pleasures of your trip.
50 minutes from Naha Airport

Approximately a 10-minute drive to Yachimun Pottery Village

Approximately 30 minutes from American Village

Approximately 1 hour to Churaumi Aquarium
MIHANA offers great access to popular attractions.
Beach
Zane Beach, a hidden scenic spot,
is just a 3-minute walk away.
Zane Beach is a hidden gem that we really want to keep a secret.
Passing through a tunnel of subtropical plants,
you will find yourself on a rocky plateau jutting into the sea.
Be amazed by the panoramic view woven from blue sea and sky.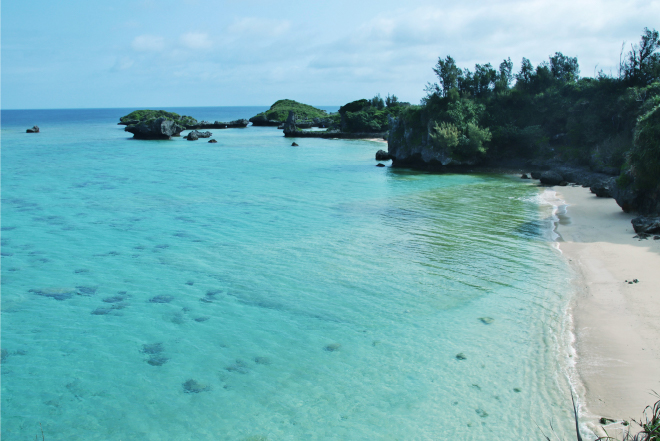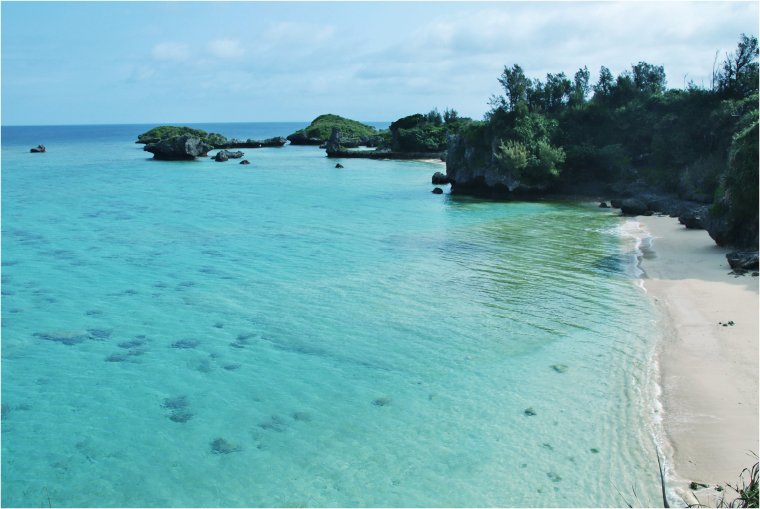 Activities
Zane Beach, a snorkeling spot, just a 3-minute walk;
Cape Maeda, a very popular diving spot, just a 9-minute walk; and
Blue Cave, just a 100-meter swim away.
Join a diving and snorkeling tour.
Underwater, in the "mihanada" blue, you will meet colorful fish and other sea creatures.
Garden
You will be welcomed by a tunnel
made of refreshing evergreen hardwood trees.
Pools
There are two circular pools
in different sizes under our symbolic tree.
Relax and rest both mind and body.
Safe and perfect for small children.
*Available for day-trip visitors upon reservation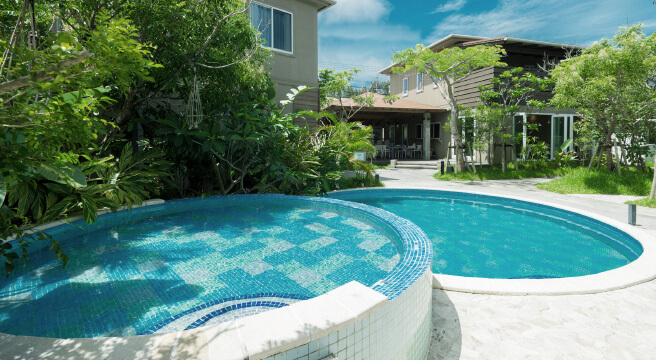 How to find us
MIHANA
890-1 Maeda, Onna-son, Kunigami-gun, Okinawa,
904-0417
TEL: +81-98-989-5210
By car / taxi
Naha Airport - Route 331 - Tomigusuku/Nakachi Interchange (IC) - Naha Airport Expressway - Ishikawa IC - Prefectural Road 73 - Ramp (to Naha) - Route 58 - Yamada Intersection (turn right) - Prefectural Road 6 -

MIHANA

Naha Airport - Route 332 - Naha Interchange (IC) - Okinawa Expressway - Ishikawa IC - Prefectural Road 73 - Ramp (to Naha) - Route 58 - Yamada Intersection (turn right) - Prefectural Road 6 -

MIHANA
By monorail & bus
Naha Airport - Monorail Asahibashi Station - 3-minute walk - Naha Bus Terminal (#28 bus) - Yomitan Bus Terminal (#48 bus) - Maeda Bus Stop - 2-minute walk -

MIHANA